The junk boats in our fleet have been superbly built with carefully selected first class materials. All of them are inspected annually with all the necessary maintenance and repairs executed over a whole month as recommended by the constructor. They are also regularly monitored and maintained throughout the year.
Our company has a good reputation for its dedication and excellence. No matter the cost of all these safety elements, we believe that they are entirely justified to ensure your safety as well as the safety of our crew members and staff.
The company has been legally authorised for your transport and lodging by the local authorities.
All junk boats have air-conditioned cabins.
Beds and linens are comfortable and clean. Each cabin has a hot shower, bath towels, essential toiletries, drinkable bottled water, and private toilet.
For each meal, the sea food is fresh and carefully chosen. All other food items are of quality to ensure you have delicious meals. You can also make specific requests for the chefs to prepare providing a little notice.
The on board staff is dedicated to ensure your well being and is on hand at all time.
You will also be the only Ha Long Bay visitors doing so on biofuel propelled junk boats.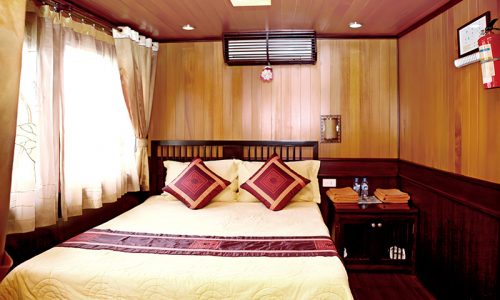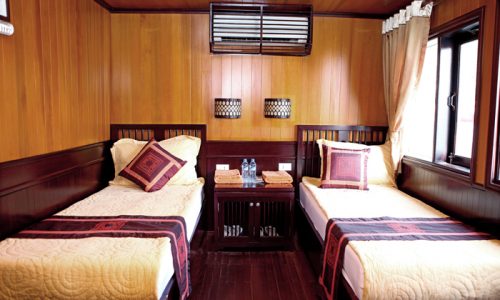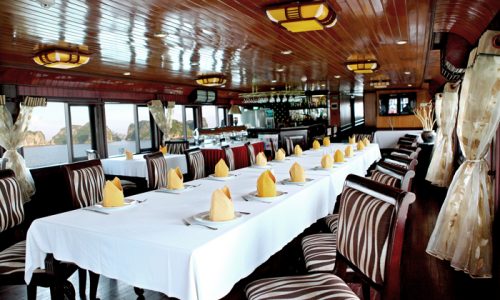 Traditional junk boat with 13 air-conditioned cabins, private shower room with hot and cold water.
Standard comfort.
Dining room and sun deck.
These junk boats do not have any triple or interconnecting cabins. 
Junk boat with 21 cabins, with reversible air conditioning, private shower room with hot and cold water and toilet.
Interior decoration and furniture of superior quality.
Traditional restaurant for your meals. Sun deck.
Cabin triple and interconnecting cabins available for families.  The single bed is made for a child under 12 years.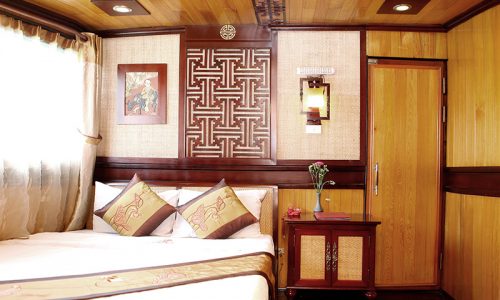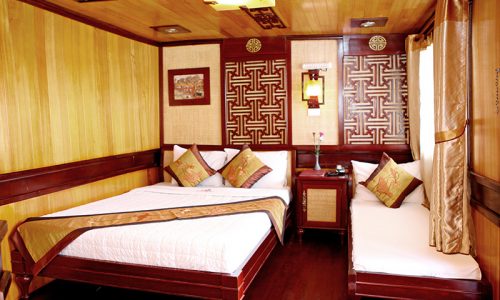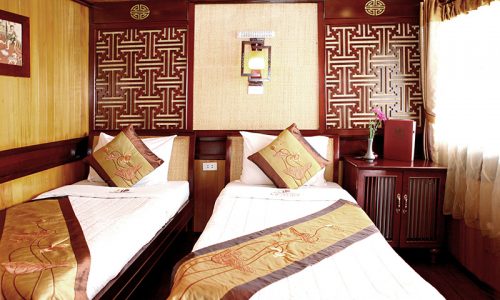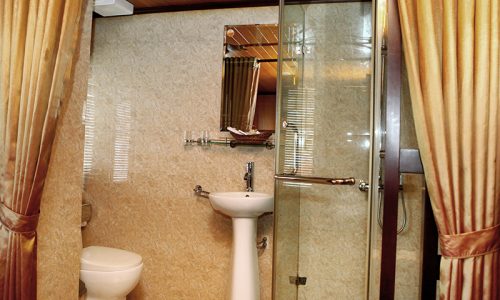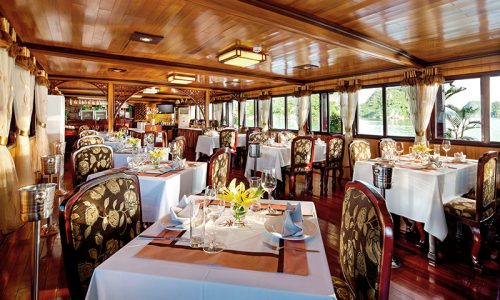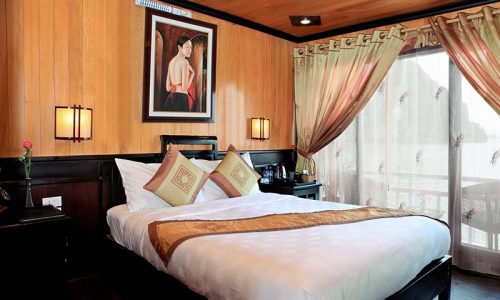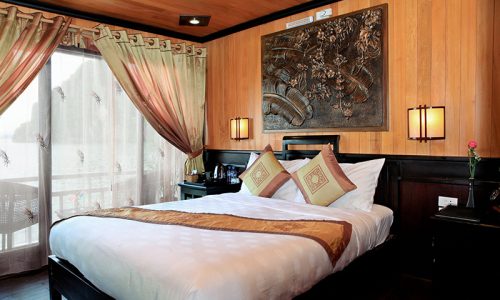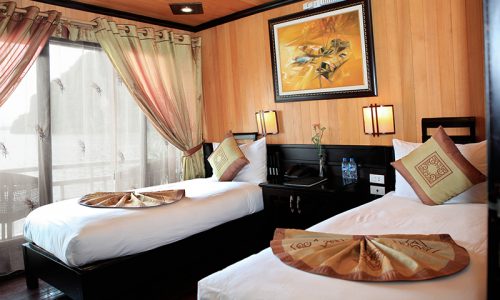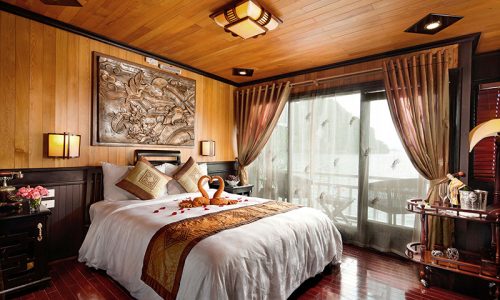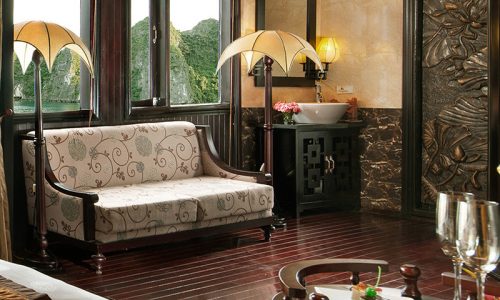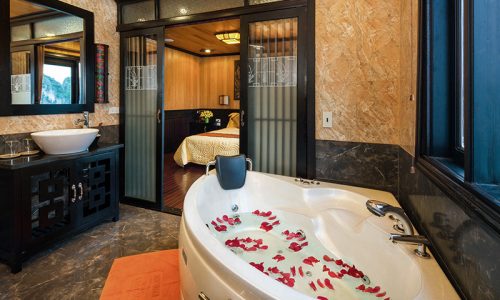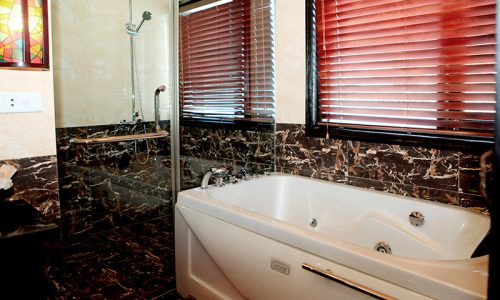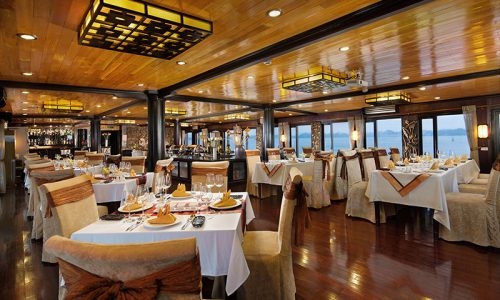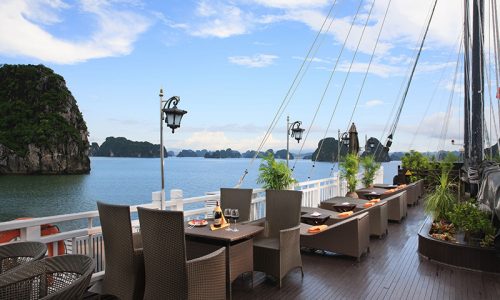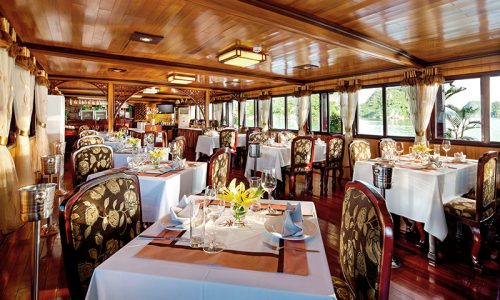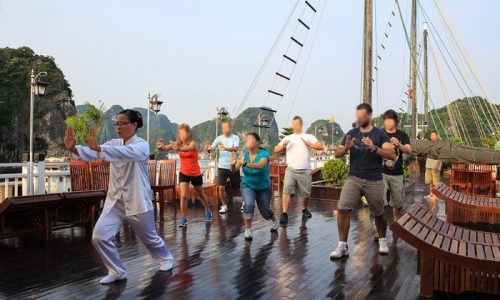 Junk boat with 30 luxury cabins and private balcony, one junior suite and one presidential suite. All cabins have reversible air conditioning, private bathroom with hot and cold water and toilet.
Refinered interior decoration and modern luxury furniture.
High end traditional restaurant. Magnificent sun deck
Bar, massage, aromatherapy, telephone, English and french guide, luggage service.
It has a triple cabin (one large bed + one single bed) that can accommodate 3 adults. Cabins with no private balcony. It also has communicating cabins (a cabin with a double bed and a cabin with 2 single beds) ideal for a family of 4 people.
French supervision and management
Small junk boat of two cabins , 6 people maximum.
All cabins have reversible air conditioning, private bathroom with hot and cold water.
Elegantly decorated. Dining room, sun deck and bar.
Weather conditions permitting, we will be delighted to organise a meal to be taken on the sun deck. (at no extra cost).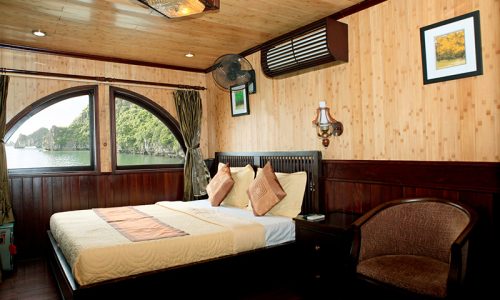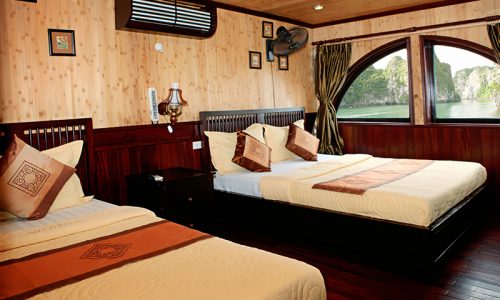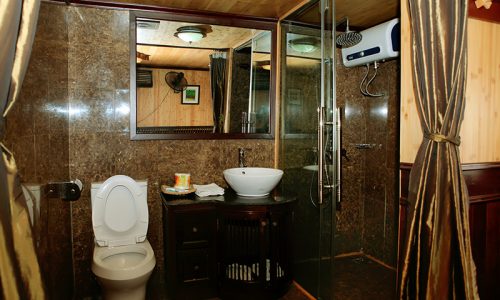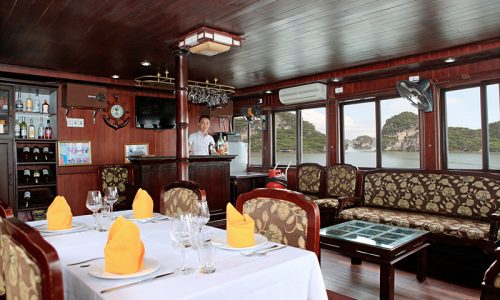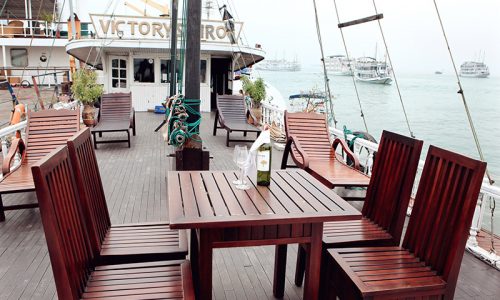 On Superior and Luxury junk boat we can (on request) accommodate and arrange for special events such as wedding anniversaries , birthdays or family celebrations.
For visits and excursions, a guide will be with you during the whole cruise.
A guide can be provided for private junk boats at an extra cost.